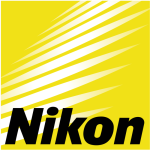 Nikon microscopes are world-renowned for offering high-quality laboratory analytical instruments. In this case, for the observation and analysis of samples mounted on slides. Particularly, their series of polarising microscopes are in use to this day to study the birefringent properties of anisotropic specimens.
Users accomplish this by observing image contrast and colour changes. Nikon offers systems for both quantitative and qualitative study. Made in Japan, Nikon's range of scientific instruments, like our range of microscopes. Are of a high standard and build quality. Offering exceptional optics, imagery, and useability all around.
Utilising a modular design, rather than one container unit. You can pick and choose parts, resulting in a customised microscope unit. Featuring your chosen optics, oculars, stages, light source, viewing fields, and more.
ECLIPSE LV100N POL and Ci-POL Microscopes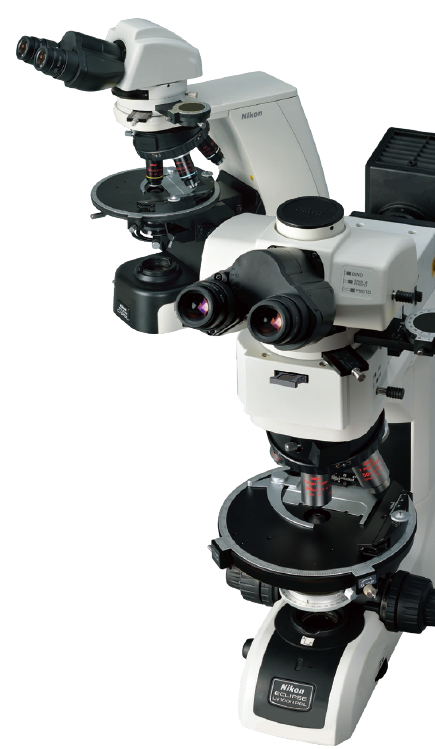 Nikon microscopes proudly produces the ECLIPSE polarising models of microscopic viewing instruments. The base units are the LV100N POL and Ci-POL. Renowned in various industries, including academic earth sciences and mineral exploration used to study the birefringent properties of geological slides. Such as those of rock and mineral thin sections.
Particularly by observing image contrast and colour changes under polarised and cross-polarised light. Nikon offers systems for both quantitative and qualitative study. With a modular design, enabling users to kit out the microscopes with their own research and analytical requirements to meet your needs.
Academic research such as within earth science, often lead to new and exciting breakthroughs in the fields of geology. Research, data and techniques learned during research often trickle through to industrial applications.
As such, the range of products lend them selves not just to academic purposes, but field and lab use during mineral exploration projects. Do not leave your analysis of samples to chance. Using a trusted industry name, high quality machine and excellent modular capabilities, will realise your projects full potential.
Diascopic Illumination with Fly-Eye Lens
One of the core features of the Eclipse LV100N POL and Ci-POL include Nikons unique fly-eye optical illumination design of diascopic illuminations. This ensures excellent, uniform brightness through out your entire field of view. This core features further lends its self very well to digital imaging applications and quantification analysis.
Objective Mount and Nose-piece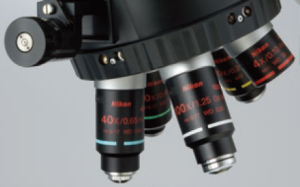 In total, users can mounts up to five objectives at any one time. All of which can be positioned exactly to the center. Furthermore, the DIN compliant compensator slot accepts various compensators which will aid users in qualitative or quantitative measuring.
High Precision Rotating Stage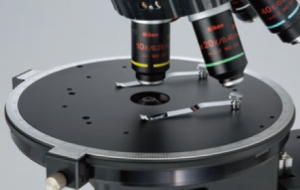 Both the LV100NPOL and Ci-POL microscopes posses highly precise, rotating stages on which to mount your slides. While some difference are present between both models, (see further specifications at the bottom of the page). The stages allow for smooth movement and easy rotations. Staying in place/or locked in position as required, ensuring your samples do not move. A rotating stage is necessary when viewing minerals under cross polarized lighting. As the movement on the axis phases through different colours, allowing you to determine a particular mineral more accurately.
Intermediate Tube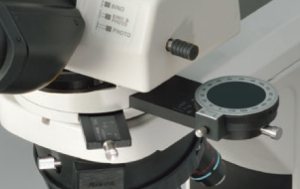 Both models utilise the same, intermediate tubes in their design. That being a Bertrand lens, as standard. High quality and enables both the observations and capture of canoscopic and orthoscopic images. Furthermore, the Bertrand lens is focus-able and able to be centered. The presence of a high precision slider analyser can be rotated 360° with the precision vernier scale.
Components and Accessories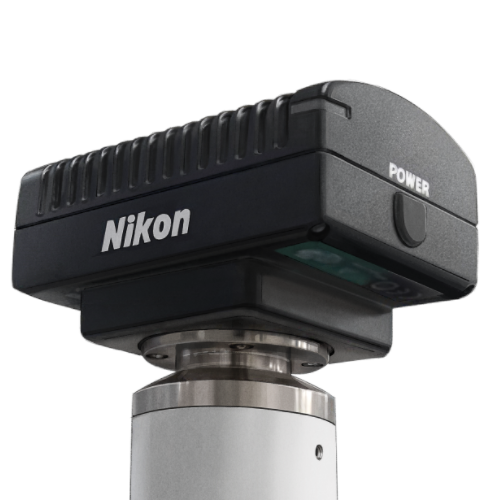 Microscope Cameras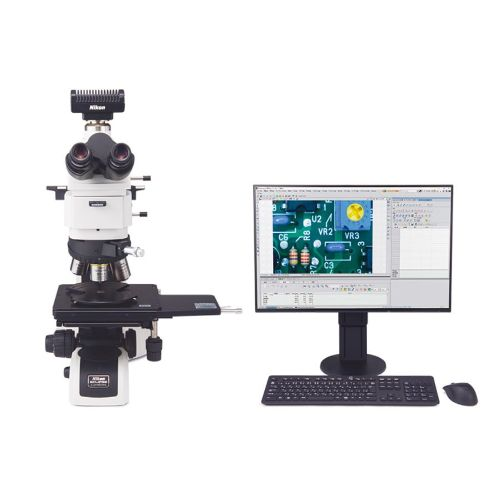 Microscope Software
If you are interested in securing Nikons range of quality analytical microscopes. Whether it be for academic purposes or industrial, where you require a quote or have further questions regarding the models, or their modular components and accessories. Please do not hesitate to contact us, using the contact form below.